Platinum Tour – Capt. Mike's Ultimate Manatee Tour – Crystal River, Florida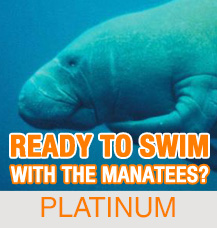 Duration: 5 Hours (approx.)
Product code: platinum
Private or semi-private tour from 2-6 guests ONLY. Specially designed Houseboat. Enclosed with heated (in winter) exploring and swimming with manatees in several springs. Snacks, hot & cold beverages. Between April 1 - November 15 an In-Water guide will only be on the tour with you if you pre-purchase the Ultimate In-Water Experience, we do this to keep our tours as private as possible.
Over the years my company has developed a reputation for customer care, cleanliness, friendliness, trust, timeliness, and dedication unmatched by any of the others in the manatee snorkel tour business.
Welcome to our VIP Manatee Tour. Our custom houseboat offers comfortable seating, an onboard restroom and changing room as well as many other features.
This is our premier manatee tour. It is the only one of it's kind in the world. Come and join us for an experience you'll remember for a lifetime.
Since we only serve 2 to 6 swimmers on board, our tours are more personalized and friendly. Each tour lasts approximately 5 hours. Due to the amenities provided, a 2 person tour minimum is required.
Plus we have the only heated boat in the area, when it's cold outside, it's toasty warm inside
Rates
Our Ultimate Manatee Tour is priced at $99/person (plus applicable taxes). We require a minimum of 2 persons and have a maximum of 6 persons. Our tours last approximately 6 hours.
Group Tours
Private Manatee Tours for your group only can be arranged as well as other amenities that you may want for your private tour.